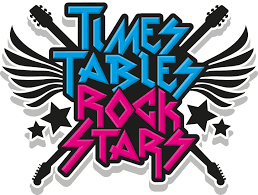 Log into Times Tables Rock Stars - just 10 minutes practice every day can make a huge difference. How fast can you answer questions? Can you improve your speed? Can you challenge your friends or your teacher? Click here to log in. Download a helpsheet and more information here.
Find out more about our Times Tables Rock Stars competition here!

There is lots of maths you can do at home that does not involve screentime or worksheets.
Have you tried any of these?
Do some cooking together. Weighing ingredients and measuring liquids accurately is great maths work. With younger children, discuss the concepts of full, half full and empty and compare amounts.

Look for numbers around the house. What are the largest and smallest numbers you can find?

Practise cutting pieces of paper (or even food) into different fractions such as quarters, eighths or sixteenths. Make sure all the parts are equal.

Count or collect different flowers, leaves or stones from the garden or on a walk. Back at home, sort the objects into categories. You can also create tables and graphs to show what you found.

Play some games together and keep the score to practise counting. You could make the score for a win 5 or another number so children practise counting in different jumps.

Make times table or number fact flashcards and test each other.

Create pictures out of 2d shapes that children know (this could be simple like circles, squares or triangles or include more complex shapes like a rhombus or octagon). You could draw these pictures, paint them or cut out shapes and stick them.

Plan a day out together for a future date. This could include working out budgets, prices, timings and distances.
There are lots more ideas online, including here.