Mrs Kelsey (hkelsey) on: Year 4 Blog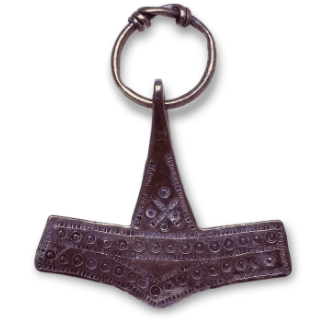 It may not look like the one from Avengers but this is what the Vikings thought Thor's hammer looked like. Thor, before being used in the Avengers comics and films was a Viking God. There are many stories of his strength and ability to defeat monsters with nothing more than a hammer.
The Vikings worshiped their gods not in churches or in temples but in the open air, choosing natural landmarks such as big rocks, unusual trees, and waterfalls. Their most important gods were Odin, the god of knowledge, Thor, the god of metalwork and thunder, and Frey, the goddess of fertility. After around 1000 AD, Viking peoples became Christian.
Odin: is the god of wisdom, poetry, death and magic. Son of Bor and the giantess Bestla, Odin is the chief and king of Asgard. He is married to the goddess Frigg, and is the father of the gods Thor, Baldr, Höðr, Víðarr, and Váli.
Known as the All-Father. A defining feature of Odin is his being one-eyed, a result of him having sacrificed an eye to drink from the Well of Urðr, which granted him an incomprehensible amount of knowledge of the universe.
The modern English weekday name Wednesday bears the god's name. (from Old English Wōdnesdæg, "Wōden's day")
Thor: is the god of thunder and lightning. He is the son of Odin and Jörð, the personification of the Earth, and is physically the strongest of Odin's sons. Thor is described as being fierce-eyed, with red hair and a full beard, and he is quick to anger and has an enormous appetite.
The modern English weekday Thursday (from Old English Þūnresdæg, "Thunor's [Thor's] day") bears the god's name.
Freyja: is the goddess of love, beauty, war, and death. Freyja is the daughter of Njörðr and twin sister of Freyr. The most beautiful and refined of the goddesses, she owns the necklace Brísingamen, and rides in a chariot pulled by two cats, accompanied by a giant boar She is Freyja rules over the heavenly field of Fólkvangr, where she receives half of those that die in battle, as the other half go to Viking heaven (Valhalla).
Her name is often translated into English as Freya when used nowadays, but the original Norwegian name is spelt Freyja.
---